By now, I'm pretty sure we've all seen it. Our social media feed has been buzzing all about it. Videos and images showing luscious blue-green waterfalls hugging the curves of the canyon. Havasupai Falls; heaven on earth (in Arizona). When my friends first shared their desires to travel this desert oasis, I was immediately hooked. I lusted for those falls, ached for the canyon walls to surround me, and dreamed of the desert adventures awaiting me in the Grand Canyon. I knew we had to make it happen. With the help of my wonderful friends (most of whom I'd had met while partying in Las Vegas 4 months earlier), we began our planning!
Now, before I continue, I want to make a disclaimer: this is not a 'traditional' Havasupai trip planning guide. In order to prepare for this journey, I Googled every possible blog and site available. I made lists upon lists, prepared gear, prepped food, planned recipes and still, none of the sites I read could truly prepare me for trip we had. This post is a re-cant of my experience and the truths discovered while making this trip, what I WISH I had known before making the trek down.
Quick Stats:
 LOCATION
Havasupai Indian Reservation — Arizona
Click Here for detailed directions.
 LENGTH
8 miles from Hualapai Hilltop to Supai Village
2 miles from Supai Village to Havasupai Campground
Packing List:
ESSENTIALS:
Lightweight Backpacking Bag  – I used the Gregory Women's Amber 60 Backpack for this trip. I am abnormally short and found this pack fit my body perfectly and allowed me to securely carry all of my items comfortably.
CLOTHING
1x Sturdy hiking boots – I absolutely loved my Columbia Women's Fire Venture boots. They allowed me the comfort and ankle support needed during the long and dusty hikes. They're also water proof and quick-drying to support walking over the endless streams and rivers to Mooney Falls.
1x Hiking sandals/water shoes
1x Dry-fit lightweight Long sleeve shirt
1x Raincoat or Poncho (in case of flash floods)
TOILETRIES + EXTRAS
Lightweight Food and Snacks
Toothbrush/Toothpaste/Toiletries
Highlights:
Fifty Foot and Navajo Falls:
The first falls you'll encounter on the hike down to the campground (about a mile past Supai Village)
Try to find the secret cave behind the waterfall, but be careful!
Havasupai Falls:
Closest waterfall to the campground.
Easy to swim/float on, picnic tables and lounging areas nearby to relax with your group.
Mooney Falls
About a mile from the campground, deeper into the canyon.
Hikers must descent 200 ft of chains, caves, and ladders to get to the falls.
Best to go between 11 am – 3 pm as the sun will be shining right over falls during these times.
Beaver Falls
3 miles past Mooney Falls, deeper into the canyon.
Try to find the secret cave behind the waterfall, but be careful!
Best to go between 11 am – 3 pm.
The Do's and Don'ts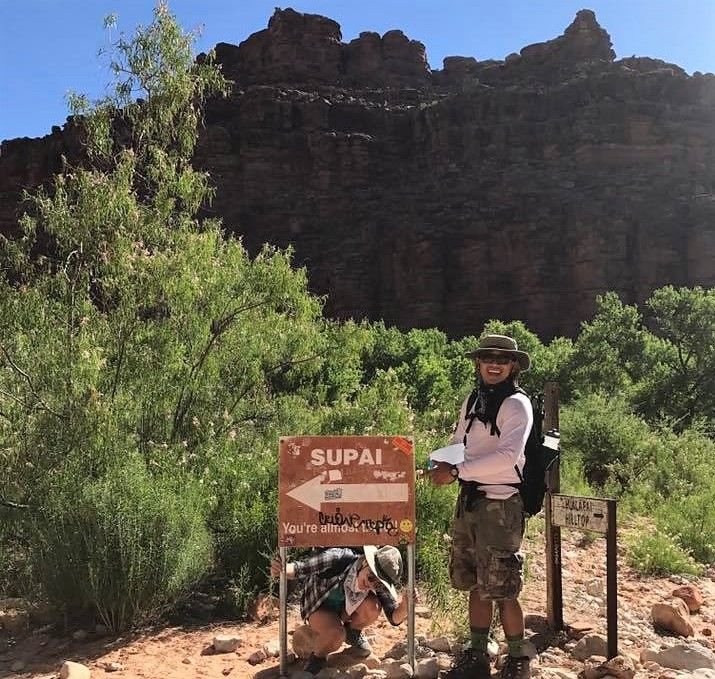 Do: Make a reservation through the Havasupai tourist office!
Camping reservations can be made at the Havasupai tourist office either:
By phone at 928-448-2121
Or online
Havasupai Lodge reservations can be made by phone at 928-448-2111
2017 Fee's are as follows:
Entrance Fee: $50.00
Camping Fee Per Night: $25.00
Environment Fee: $10.00
Tax: 10%
Saddle and Packing Fee: $121.00 (per animal one-way)
It isn't easy getting a reservation, I personally think this is a test of your patience and commitment to the cause. We had 6 people in our group calling for 4 days straight on opening day (February 1st) before finally being able to get a reservation. When you get down to Supai Village, the person that the reservation is under MUST be there to check-in the group at the tourist office. To avoid not getting into your campsite, ensure the person who made the reservation can be there to check every one in!
Don't: Try to day hike or sneak in to the camp
There are multiple check points and campground rangers who will check for tent tags and visitation wrist bands. On our way back up Sunday morning, we witnessed a group get stopped in the village by one of the check-point rangers. When asked if they were going to check in, the group said they were just doing a day hike (*facepalm*). It's an 8 mile hike through desert sand and heat just to get the Supai Village, and another 2 hour drive from the trail head to the nearest city (Peach Springs). You don't want to be like this group and be forced to turn back around! Come prepared or face the consequences!
Do: Be prepared for a long, hot, and dusty hike.
I'd like to think I'm in relatively good shape. Even before this trip, I was blasting through hikes and power-squatting weights to get my legs Havasupai ready. All the physical training, however, did not prepare me for the conditions of the canyon. Some things I can share to prepare for the hike are:
Hike early to avoid making the trek under the heat. The canyon walls prevent the sun from shining directly over you in the early afternoon and late evening as you descend deeper into the canyon. Our group left at 3 am in order to set a comfortable hiking pace while avoiding the sun.
Bring a hat to cover you from the sun! My hat was my best friend, I never left our camp site without it.
Pack at least 2L of water on the hike to and from. I made the mistake of packing electrolytes instead of water on the hike back. It only made me thirst for actual water, never again will I go without water on a long trek like this.
Bring something to cover your mouth to prevent inhaling the dust! The last 2 miles is a trek through red dust and clay. I found myself inhaling and coughing up loads of dust during this part, having a cover would have been useful.
Don't: Forget to pack first aid, foot care, and duct tape
Again, as much as we prepared for the hike, we didn't prepare for all of the injuries! Pretty much everyone in our group suffered from some form of cut or blister during the hiking we did (roughly about 30 miles total during our trip). Beyond blisters, some in our group suffered sprains, heat stroke, and even torn ligaments 🙁
I recommend bringing a Compact First Aid Medical Kit
and plenty of Moleskin
 on hand to prevent worsening any injuries.
Do: Relax by the falls with a floatie!
You didn't spend hours on the reservation line and miles on the trek for nothing! Enjoy yourself, you made it to Havasupai! After you've packed the essentials (above), treat yourself to the spoils of the falls! Havasu Falls is easily most beautiful and closest waterfall to the campground so make sure to spend some ample time relaxing here. Our group brought down some floaties, but we decided to give them away on our last day to the next happy campers looking to relax by the falls. Why not? We were the lucky ones who made it down, lets all enjoy the spoils! Just be sure to BRING THEM BACK UP WITH YOU as you leave.
Don't: Try to float down Havasu Creek
Just don't. It's a terrible idea. You will get hurt and you will scar.
Do: Make friends with the locals!
The park rangers are kind and happy to share the beauty of their land with campers. Along with them, the natives selling souvenirs and goods at the campground entrance are friendly and happy to tell you tales of the land. We spent a good amount of time at the Fry Bread hut with the rest of the campers. There was nothing more satisfying than quenching your thirst with a nice frozen sprite and eating the delicious cinnamon fry bread.
Beyond the people, the village dogs roam the campground and do what dogs in the wild do. They played in the waterfalls, napped in their favorite camp spots, played with one another, and curiously approached campers who came and went. We all agreed that one of the highlights of our trip was watching the dogs own the camp. We even made formed a little pack of our own with our favorite dogs before leaving.
Don't: Feed the wildlife
This includes leaving behind your trash for the locals to clean. Sometimes small critters and yes, even the naughty dogs, will get into the trash you leave laying around. If you're going to be away from your campsite, place your trash and edibles in places where animals cannot get to. We saw many people hang their things in trees, some even tied their goods in the creek. Whatever it takes, avoid attracting animals to your campsite by leaving your goods easily accessible.
While I'm on the subject of wildlife, beware of fire ants! There are scattered nests throughout the campground. They suck, and you will continue to burn for days after getting bitten.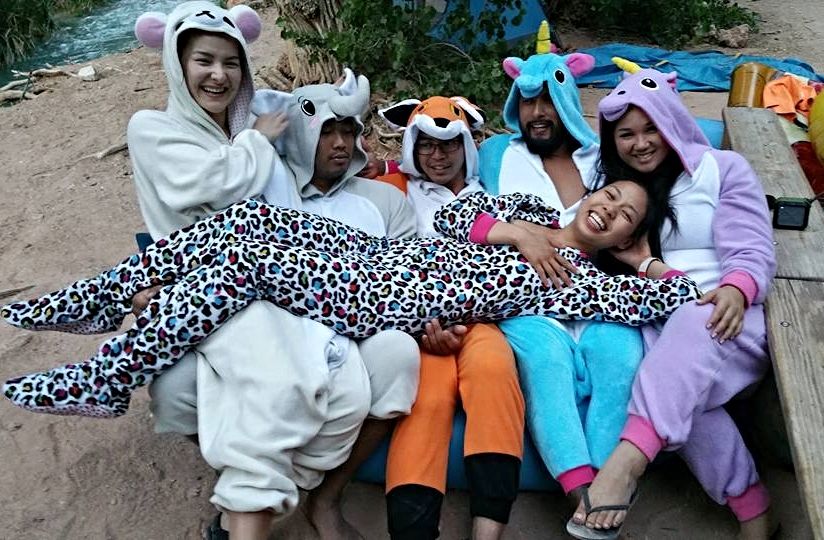 Do: Make this trip your own!
After reading all of the other guides online, I was sure I'd have to eat dehydrated meals and sh*t in a hole all weekend. That was not the case at all. Our group came prepared, we even have carne asada on one of the nights. The point I'm trying to make is all can have the trip they desire if they are willing to plan. We saw backpackers who packed nothing but dehydrated foods, and others who came down with freaking cheese and fruit platters. Its really up to what you're willing to carry. If you're looking for a bit more luxury, renting a pack mule can allow you to bring a bit more for your stay. Do some research and determine the type of experience you want.
Don't: Wait much longer!
Seriously! Word is getting out and more people than ever are heading down! While there were a number of people down there, we all had a comfortable experience without feeling too crowded. That could change, however, as they plan to expand next season. Take the leap for yourself and go!
Happy Travels!
Diana Ratana